Our Mission:
To promote community participation and interest in the fine arts.
To serve all art groups in all forms.
---
Welcome to our  webpage!!! Please check back frequently to see what events we are sponsoring.  Be sure to scroll below the Calendar on the calendar page for more information on our events!
We would like to encourage anyone interested in the arts to come join us at our monthly meetings.  We meet every fourth Monday of the month at the Ferguson Building in Willow Springs at 5:00PM.
We had a busy summer with the Kids Summer Art Camp and the "Afternoon of Tea and Antiques"!  Now, it is on to fun fall activities!
WSAC sponsored a booth at the Bear City celebration in downtown Willow Springs on Saturday, October 3rd!  Lots of kids stopped by for a balloon animal and to learn more about our upcoming events!
Our Third Annual Sponsorship Campaign began in October.  This is the Arts Council's annual fund raising event to raise funds for our varied activities supporting the fine arts in our community.  To kick-off this campaign we had  Regina Willard exhibit
 with us at the Ferguson Building!  Regina's exhibit entitled "Down on the Farm" was very well received.  We introduced the exhibit on October 16th from 6PM to 8PM and celebrated our sponsors as we kicked-off our fundraising campaign.
Then on Saturday, October 24th, we hosted our first oil painting workshop with Ms. Willard.  It was attended by 17 painters who enjoyed an afternoon of great instruction and fun!
Look out!!! It's almost here!!!  Spooktacula III will be presented on October 31st, HALLOWEEN at the Star Theater.  This will be a fun way to wind down after Trick or Treating!!!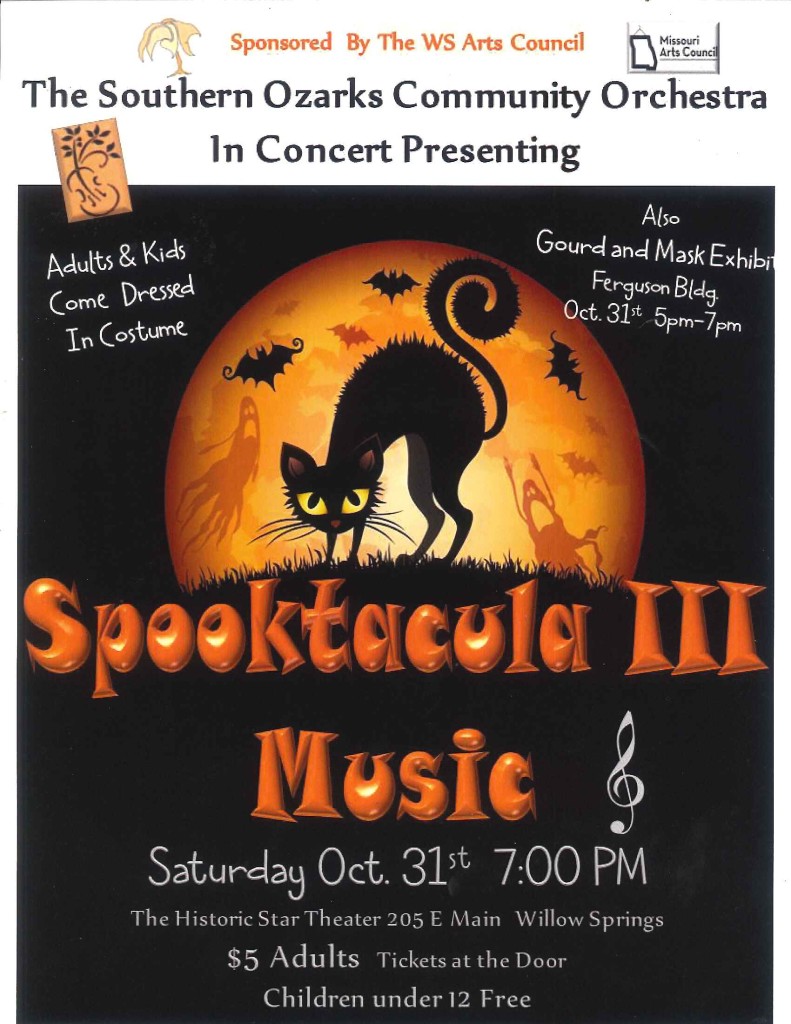 And, don't forget to stop by and see the fabulous Gourd and Mask exhibit at the Ferguson from 5 to 7PM before the concert!  You've never seen gourds like this!!!
The Arts Council is hosting a Crafts Fair on November 7th in the Ferguson Building. We currently have eleven vendors and there will is room for more!   Please contact Ginny Godsoe at 417-469-0841 if you wish to have a booth and sell your crafts.  This is a great opportunity to do some holiday shopping for unique gifts!  There will be weaving and printing demonstrations.  And…… DOOR PRIZES!!!!!
CALLING ALL ARTISTS
WSAC is always looking for artists who would like to exhibit at the Ferguson Building in Willow Springs.  Whether paintings, photography, pottery, fiber arts or other medias, please call Becky Cash at 417-962-0979 if you are interested.