Our Mission:
To promote community participation and interest in the fine arts.
To serve all art groups in all forms.
---
Welcome to our  webpage!!! Please check back frequently to see what events we are sponsoring.  Be sure to scroll below the Calendar on the calendar page for more information on our events!
We would like to encourage anyone interested in the arts to come join us at our monthly meetings.  We meet every fourth Monday of the month at the Ferguson Building in Willow Springs at 5:00PM.
Our Third Annual Sponsorship Campaign began in October and ended in December.  This is the Arts Council's annual fund raising event to raise funds for our varied activities supporting the fine arts in our community.  Currently WSAC has received $5030 in donations toward our goal of $8000!  100% of donations go to support art activities like the Southern Ozarks Community Orchestra, the Youth Orchestra, art camp for kids, and, art exhibits.  If you haven't made a donation, IT"S NOT TOO LATE!!!  We encourage individuals, businesses and other organizations to make a donation to the arts council to help ensure events like these continue in our area.  The WSAC is a 501c3 organization and donations are tax exempt.
You can also donate with purchases from Amazon.  Use this link:
https://smile.amazon.com/ch/43-1481989
CALLING ALL ARTISTS
WSAC is always looking for artists who would like to exhibit at the Ferguson Building in Willow Springs.  Whether paintings, photography, pottery, fiber arts or other medias, please call Becky Cash at 417-962-0979 if you are interested.
2016 is shaping up to be another busy year for the Arts Council!!!!  We sponsored a lovely exhibit in April by Deborah Lively from Mtn. Home.  And, Mrs. Lively conducted a watercolor workshop on Saturday, April 16th.
The final performance of this season by the Southern Ozarks Community Orchestra was at the Star Theater in Willow Springs on April 24th!  It was an extra special event and we look forward to them coming back in the fall.  The Southern Ozarks Youth Orchestra is preparing for a concert on May 15th! 
 The Arts Council is excited to partner with Waggoner Home Center and sponsor this event!  If you are an artist interested in exhibiting, please contact Barbara Nyden at 417-855-0505, or Becky Cash at 417-962-0979.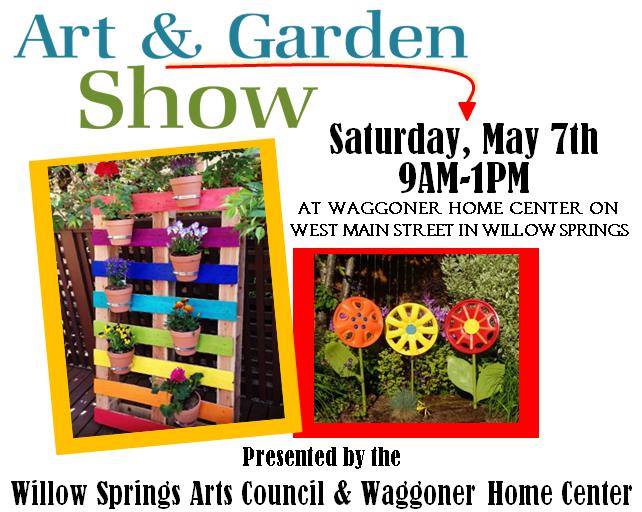 We are excited to announce that Regina Willard will be returning to conduct an oil/acrylic workshop on May 14th entitled "Painting Every Blooming Thing!".  This class will run from 1 to 4PM at the Ferguson Building.  For information or to make a reservation, call 417-855-0505 or 417-962-0979.
Mark your calendars!!!!  David Hays, concertmaster for the Springfield Symphony, will be here with his quartet for an amazing performance on Saturday, June 4th.  There is no shortage of opportunities to enjoy live musical performances!